LED sign lighting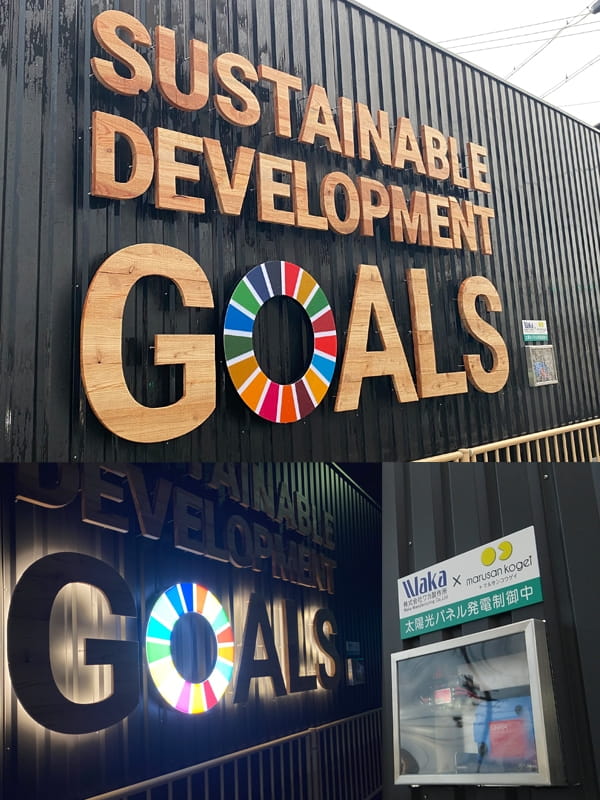 SDGs sign for Marusan Kogei Co., Ltd., Nagano City
Otsuka junction, Nagano City
WSC10008 + lighting unit (illuminance sensor type)
100 W solar panel
12.8 V/40 Ah lithium iron phosphate battery
background

We want to increase the scope for tackling SDGs!
As a company that promotes SDGs, Marusan Kogei were planning to construct a sign with the aim of popularizing and facilitating SDGs. Then they came across Waka's DIGOROU prototype, which had been mentioned in the Shinano Mainichi Shimbun newspaper, and contacted us to discuss the possibility of using renewable energy in lighting for the sign.

problem

Marusan Kogei also handle signage that features solar storage systems, but this was the first time they had worked on an overall plan that included its own power supply.
Going forward, they plan to develop new products that utilize renewable energy, and Waka has also participated from the planning stages.
Power supplies normally operate out of sight, but the thinking here was that Marusan Kogei wanted to make their use of renewable energy visible and to showcase their own fundamental attitude, so planning was necessary to devise a way of exposing the power supply element.

solution

The capacities of the battery and solar panel were determined based on the electrical consumption of the LEDs, the lighting time, and the number of operational days without sunlight, and we chose the WSC10008 charging model in line with that. We also installed a newly developed circuit board in the LED lighting control for increased unity with WSC, and the wiring was designed to fit attractively into a specialized case that was prepared for us by Marusan Kogei.